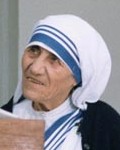 Mother Teresa was born in Uskub (Republic of Macedonia) on August 26, 1910. Her father died when she was aged eight. Her birth name was Agnes Gonxha Bojaxhiu. When she turned 18, Agnes joined the Sisters of Loreto to become a missionary to India. She spent a year in Ireland learning to speak English.
Her entire life was fully devoted to helping the poor, the sick, the needy, and the helpless. When she was 36 years old, Mother Teresa decided to help the poor of India. While trying to feed and help the poorest of the poor, she herself was constantly hungry and even had to beg.
In 1950, Mother Teresa formed a group within the Catholic Church called the Missionaries of Charity.When she first started the Missionaries of Charity there were only 13 members. Today, the group has over 4,000 members who care for people all over the world.
She once traveled through a war zone to rescue 37 children from the front lines. She was awarded the Nobel Peace Prize in 1979. Rather than have the traditional Nobel honor banquet, she asked that the money for the banquet be donated to the poor of India.
She died September 5, 1997 in Calcutta  India. Mother Teresa now called Blessed Teresa of Calcutta was canonised (made a saint) by Pope Francis on the 4th September 2016.
Jude Dewhurst